SCHOOLS
Why not book the one-hour long version of Doodlebugs & Bogeymen to support learning in KS2, KS3 or KS4? Click here to find out more.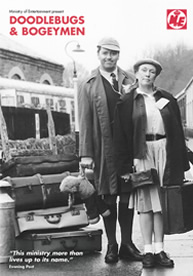 The Ministry of Entertainment was formed by two actors, Kate McNab and Joe Hobbs, to produce theatre based on oral histories from the era of the Second World War. They had met in 1997 during Bristol Old Vic's premier run of Up the Feeder, Down the Mouth which was directed by Andy Hay and written by A.C.H. Smith about Bristol Docks from the stories of the dockers themselves. During the run Joe and Kate persuaded fellow performer Kit Morgan to be musical director for their new venture. more…
As one theatregoer put it "If it's The Ministry of Entertainment you know it will be excellent theatre, great humour and lovely music".